Hi blogger addicts, I'm
Jennifer
from Rowdy in First Grade and I'm so excited to be a guest blogger for my friend Stacy!
Today I wanted to share an app with you to use for your end of the year slide show and video! I stumbled upon this app by accident when I was searching for apps that I could tweak my own photos with. This app is called Strip Designer. **The logo says Pow! But if you search for POW you find a completely different app.**
It's a comic strip designer app!
You can add speech bubbles and thought bubbles to your photos and save them to your computer or send them out. You can choose a single photo or multiple photos.
This was from a girls trip to a ranch. We took one of the deer heads off the wall!
There is even an option for just three photos which would be great for a sequencing picture- I was thinking science experiment or art project. (Please forgive the one blurry photo. I didn't have sequential photos with my students that I could use on my home computer so I'm using a photo of my parents opening their gift at Christmas)
I can't wait to take some photos with the iPad and allow my students to come up with their own captions. It's a great way to use onomatopoeias and voice in our writing. If I get really brave I may even allow my students to take their own pics.
Once your comic strip is done you can share via email, Dropbox, Twitter, FB, or add to your Photo Album. It's so easy to use! You can see more on the designers website
here
. We have an upcoming field trip and I think a comic book of our whole day would be a great addition to our end of the year slideshow video!
I would love for you to visit me at
Rowdy in First Grade
! I'm a first grade teacher living in Texas. I've been teaching first grade for four years and like all of you blogging has encouraged me to be more creative in my teaching!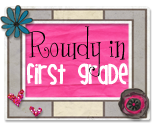 Jennifer Rowdy in First Grade